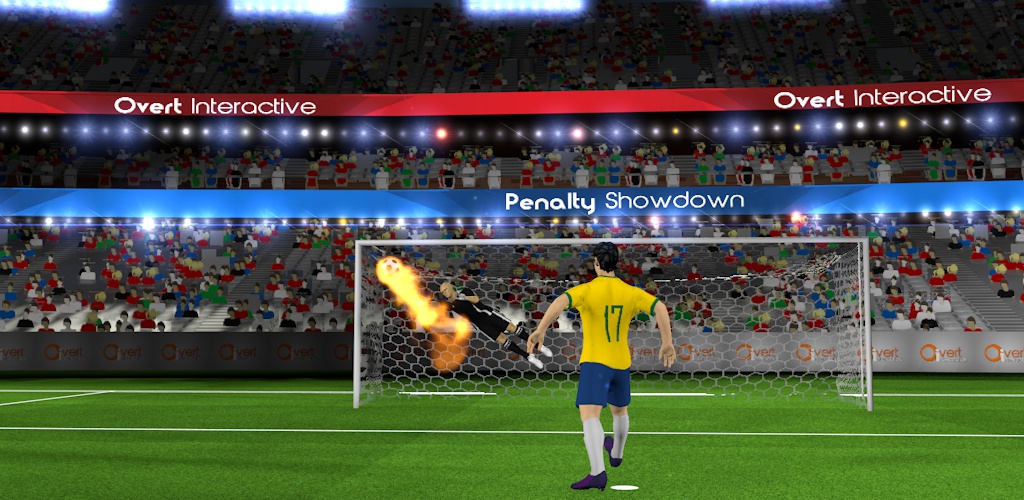 Penalty Showdown
A downloadable game for Android
Take charge as you aim your kick for the penalty goals!
Penalty Showdown puts you in the position of power where your skills will decide the fate of your team. Can you win the game for your team?
You can aim and then adjust the power of your kick before you send it flying off towards the goal post!
Beware the goalkeeper! He won't let you in so easily!
Use power ups like Cannon Shot, Electric Shot and Trick Shot to baffle the keeper!
Moreover, earn in-game coins to be able to buy new player kits and footballs!
***Multiple Game Modes***
CAMPAIGN: Clear as many levels as you can, each higher level earning more coins
VERSUS: Compete against another player in the classic one-on-one mode
TIME ATTACK It is your race against the time, score as many goals as possible in 60 secs.
***Customize***
You can use your hard earned game coins to buy customized stuff that includes
-Custom footballs
-Custom Player Kits
***Power Ups***
Your coins also allow you to buy power ups to enhance your goal scoring ability and add flare to the game. You can use the power ups after buying them from the game store
ELECTRIC SHOT
The goal keeper has no chance in stopping an electric shot. The keeper will try his best not to be in the way of an electric shot, but we want fun! Go ahead and target the keeper with an electric shot!
CANON SHOT
Want to kick fireballs at the pesky irritating keeper? Vent out your frustration with Canon Shots! The keeper cannot stop it! Target the keeper and see him burn!
TRICK SHOT
Bamboozle the keeper into jumping the wrong way to save the shot! You will always be able to get the ball in, the keeper is almost never in your way!
DOUBLE MULTIPLIER
Are you confident that you are going to hit the target? Or you want to earn more multipliers for your target streak? Then use the Double Multiplier! It increases your multiplier combo by 2, getting you more points and more coins!
***This game is optimized for high resolution devices, it performs best with tablets and high end mobile phones***
We have tried our level best to bring to you a quality game. We value your time and money. When you play our games, we feel honored that you have given us a part of your valuable time. We strive to make sure your time spent with us is enjoyable, and you come back to us for more fun!
KEEP PLAYING and KEEP ENJOYING!
Please leave your comments, suggestions and critic. Your comments enable us to make our games better, and bring to you more features that you would want to see in our games.
Install instructions
Download the APK file on to your Android Device and install it.
***This game is optimized for high resolution devices, it performs best with tablets and high end mobile phones***
Download
Download
PenaltyShowdown_for io.itch.apk
60 MB